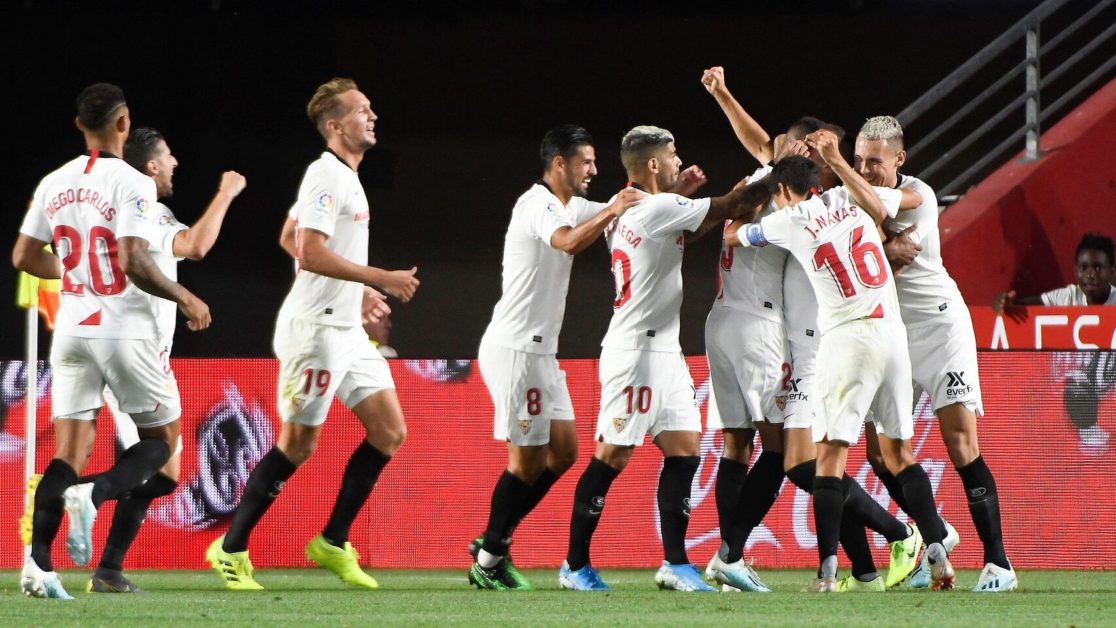 Will Sevilla take the championship lead with their next win? Let's Find out together in our betting prediction below!
Leader in La Liga is …? For once, not one of the two usual suspects. After two wins without conceding Sevilla FC is at the top of the table. Accordingly, the fans of the club from the Andalusian capital hope in the context of the third game day on another success of their favorites.
Sevilla vs Celta Vigo Today's Betting Prediction
It comes on Friday evening to a duel between Sevilla and Celta Vigo. The prediction seems not difficult at least at first glance, partly because the Sevillistas are traditionally quite strong at home.
The new coach Julen Lopetegui should have been particularly pleased about the good start to the season for Sevilla. After all, he had been through a difficult time with the national team and Real Madrid. But in Sevilla, the former coach seems to have pushed the right buttons straight away.
As a result, Sevilla currently has the place in the sun after two away victories. However, waiting for the Andalusians at the first home game with Celta Vigo a not to be underestimated opponent. That's what the Galicians showed last weekend when they prevailed against Valencia at home.
In the upcoming match between Sevilla and Celta Vigo a tip for a win of the guests with up to 6.30 brings the significantly higher odds. However, the hosts will certainly give everything to continue to be at the top of La Liga after this matchday.
Sevilla – Statistics & Current Form
Already at the end of last season, a very important man has returned to Sevilla. Sports director Monchi has been one of the key people in the background in the past. After a short stop at AS Roma, the sports director returned and wants to build on Sevilla as fast as possible to old successes.
Last season, Sevilla finished sixth in the league and is qualified for the not-so-lucrative Europa League this season. In this season, the Andalusians want to attack with the new coach Julen Lopetegui both nationally and internationally.
On the transfer market, Sevilla has already really accelerated and brought the coach new players worth well over 100 million euros. Certainly Sevilla lost some important players with Ben Yedder, Sarabia and Promes. But the bottom line is that it gives the impression that Sevilla has improved a lot thanks to Rony Lopes, Joan Jordan and Luuk de Jong.
Lopetegui has at least achieved a perfect start to the new season with two victories. So his team could easily prevail at the inauguration at Espanyol Barcelona 2-0. Last weekend was another direct away game at promoted Granada on the program.
"It was a complex, balanced and difficult game in Granada. The team did a good job. " – Lopetegui
Sevilla FC struggled a bit in this Andalusian derby, but thanks to a signing new signing Joan Jordan they were able to win 1-0. Next Friday, it's time for the team to enjoy a home game for the first time this season. When comparing Sevilla to Celta Vigo, a tip on a home win brings a maximum of 1.55.
This shows that the Andalusians are the clear favorites for the race. However, Lopetegui has a few battered players and, among other things, has to worry about the last strong Reguilon. However, with Escudero an equivalent alternative for this position ready.
Expected lineup of Sevilla:
➤ Vaclik; Reguilon, Carrico, Carlos, Navas; Banega, Fernando, Jordan; Nolito, De Jong, Ocampos
Last matches from Sevilla:
⚽️ 23.08.2019 – Granada Vs. Sevilla 0: 1 (La Liga)
⚽️ 18.08.2019 – Espanyol Barcelona vs Sevilla 0-2 (La Liga)
⚽️ 10.08.2019 – Extremadura vs. Sevilla 2: 2 (friendly)
⚽️ 09.08.2019 – Granada Vs. Sevilla 2: 1 (friendly)
⚽️ 03.08.2019 – TSG Hoffenheim Vs. Sevilla 1: 2 (friendly)
Celta Vigo – Statistics & Current Form
For Celta Vigo, things have been pretty catastrophic for the past season. For this reason, one had to be satisfied in the end that at least one could prevent the descent that has meanwhile threatened. This season, the Galicians do not even want to get into such a situation and collect as many points as possible from the start.
Unfortunately that did not work out on the first matchday. However, the schedule had given the Galicians an incredibly difficult task right at the start of Real Madrid. At least in phases, Vigo also performed well against the Madrilenians. But probably also due to an early goal came at the end of a 3-1 home defeat.
"We showed a good game against Valencia. My team has won against a strong opponent. " – Fran Escriba
Positive was from the point of view of coach Fran Escriba but sure that the team was not thrown off the track. So Celta Vigo went from last weekend very committed against Valencia to work. The Galicians rewarded early in this game and went through a goal by Gabriel Fernandez 1-0 lead.
In the aftermath, the Celtinas convinced by a strong defensive performance, which led to a home win without conceding at the final whistle. Until now, Celta Vigo was allowed to play twice in a row at home in the youngest season. Thus, the Galician club is now traveling for the first time and sets up its tents in Andalusia.
Not included is David Junca, who probably can not play due to a shoulder injury. Celta Vigo are hoping for a decent away performance after posting the second-weakest away team in the preseason.
Expected formation of Celta Vigo:
➤ Ruben; Olaza, Aidoo, Araujo, Mallo; Suarez, Lobotka, Beltran, Brais; Aspas, Gabriel
Last matches of Celta Vigo:
⚽️ 24.08.2019 – Celta Vigo vs Valencia 1: 0 (La Liga)
⚽️ 17.08.2019 – Celta Vigo vs Real Madrid 1: 3 (La Liga)
⚽️ 10.08.2019 – Celta Vigo Vs. Lazio Roma 1: 2 (Friendly Match)
⚽️ 06.08.2019 – Celta Vigo Vs. Tenerife 0: 1 (friendly)
⚽️ 03.08.2019 – Union Berlin vs. Celta Vigo 0: 3 (friendly)
Sevilla vs Celta Vigo Direct Comparison & Statistics Highlights
Between Sevilla and Celta Vigo there were 107 football matches so far. In the balance, the Andalusians are just ahead with 48 wins. But even the Galicians were able to look forward to 42 victories over the course of time.
By contrast, only 17 duels between these two teams ended in a draw in the past. By the way, last season Sevilla celebrated a 2-1 win at home in the first half of the season, while Celta Vigo won their home game in the second half of the season.
Sevilla vs Celta Vigo Betting Odds & other interesting betting predictions:
🔺 Betting Prediction: Both teams to score/ YES
🔺 Betting Odds: 1.61
🔺 Betting Prediction: Both teams to score/ NO
🔺 Betting Odds: 2.10
Sevilla vs Celta Vigo Our Best Betting Prediction Explained
At the Estadio Ramon Sanchez Pizjuan the atmosphere is actually always excellent. But one can assume that the atmosphere on Friday evening will be overflowing. After all, this is the first home game for Sevilla FC this season. And the Sevillistas will also come in as championship leaders. This makes the game between Sevilla and Celta Vigo a seemingly easy one.
Key Facts – Sevilla vs Celta Vigo tips
🔻 Sevilla are the league leaders in this game
🔻 Celta Vigo won only two away games last season
🔻 Sevilla were conceded twice in a row
But the guests from Galicia have at least retired against the Champions League participants Valencia at home after a defeat. However, it remains to be seen whether Celta Vigo will get his blatant away weakness from the preseason straight away this time.
However, we appreciate Sevilla much more and believe that Julen Lopetegui will win again in the third match under his leadership. That's why in Sevilla vs Celta Vigo we place our tip for better odds of 2.40 on home win for Sevilla with at least two goals difference.
🔺 Competition: LaLiga
🔺 Date: 30.08.2019
🔺 Betting Predictions: Sevilla (-1)
🔺 Odds: 2.40
🔺 Stake: 3/10 units