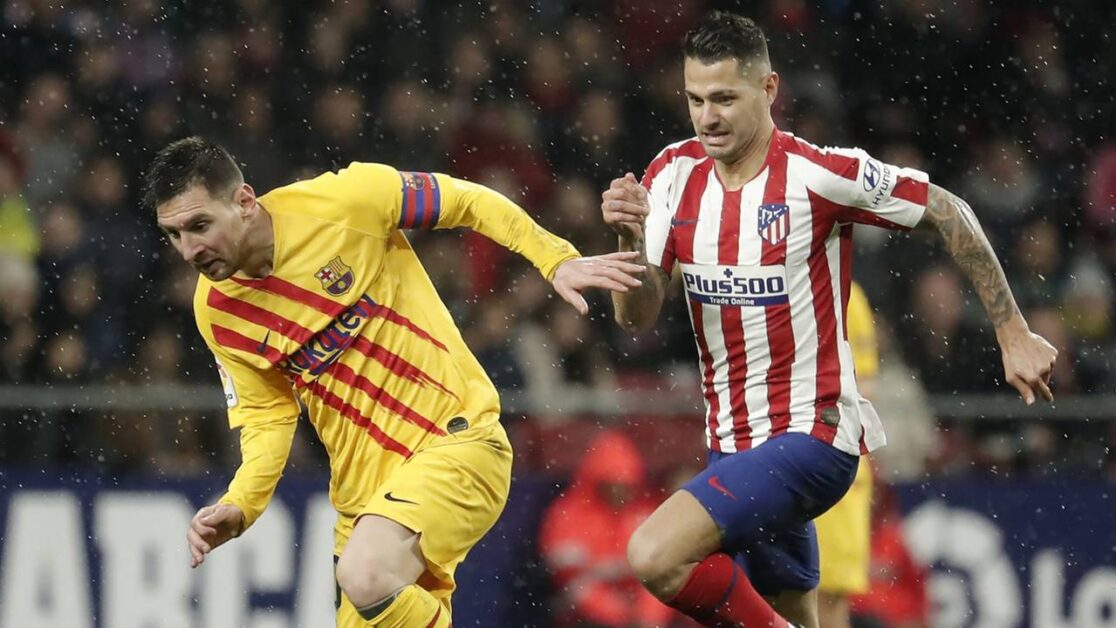 Barcelona vs Atletico Madrid Betting Odds and Predictions
Barcelona under pressure in the top game against Atletico
Top game in Spain: On matchday 33, second in the table FC Barcelona receives third place Atletico Madrid for the hit game in La Liga. In the title fight after the second draw within a week, Barça is already with his back to the wall against an athlete who has got in shape in time.
The Rojiblancos last celebrated four wins in a row, while Barça allowed himself bitter slips in the championship fight first in Seville (0-0) and then in Vigo (2-2) – and thus lost ground to rival Real Madrid.
Just before the top game, FC Barcelona is already under enormous pressure. Without a home win, the title is likely to be a long way off, after all, the gap to first place is already two points – and the direct duel, which is used in Spain in the event of draw, is also known to have lost Barcelona to Real Madrid, as is well known.
The mood in Catalonia should be tense before the top game Barcelona against Atletico Madrid, in which the odds speak for the Blaugrana, but Atletico can also be trusted according to https://extratips.com.br/.
Barcelona – Statistics & current form
"Frustrated, bitter and sad" – this is how you can summarize the emotional world of FC Barcelona after the 2-2 win at Celta Vigo on Saturday – because that's exactly what Luis Suárez did after the game. The double-scorer brought Barcelona twice in front in Galicia – his first goals after months of injury – but it shouldn't be enough to win because Celta captain Iago Aspas had the last word minutes before the end and circled a free kick around the wall into the short corner.
Again, there was no victory for Barcelona abroad – the tenth game on the opponent's place without a win in 16 guest appearances – there was another setback in the title fight.
Double packer Suárez frustrated and at a loss
"It is the job of the coaches to analyze why we lose so many important points away. That was not the case in other years, "said Suárez dejectedly. "Personally, I'm glad that I could help with two goals, but I'm still angry because we have to improve a lot," said the Uruguayan on Saturday after the game into the microphone.
A few days earlier, Barça had blundered abroad, relinquished the lead at the 0-0 in Seville – now the next costly slip in the title race. Much to the delight of arch-rivals Real Madrid, who extended their championship lead by two points to a 1-0 win at Espanyol on Sunday evening.
Barça's away misery continues
"I don't know why it is so difficult for us to go away," coach Quique Setien said helplessly about the misery in away games. "We have less and less room for error," said Setién, "we theoretically have to win every game and hope that our opponents still miss points. We will continue to try to collect all the points. "
Trying to break in the threesome on Tuesday, it will be Barcelona against Atletico Madrid, the question is: will it work? Against the uncomfortable Rojiblancos, this home win will certainly not be a walk, and the betting odds for the Barcelona vs Atletico Madrid match show that 1.88 there is an average of tip 1, the odds of a home win being FC are rare Barcelona so high.
Probable lineup of Barcelona:
➤ Ter Stegen – Semedo, Piqué, Lenglet, Alba – Busquets, Rakitic, Vidal – Messi, Suárez, Griezmann
Last games from Barcelona:
LaLiga
⚽️ 06/27 2020 Celta Vigo 2 – 2 Barcelona
⚽️ 06/23 2020 Barcelona 1 – 0 Athletic Bilbao
⚽️ 06/19 2020 Sevilla 0 – 0 Barcelona
⚽️ 06/16 2020 Barcelona 2 – 0 Leganes
⚽️ 06/13 2020 Mallorca 0 – 4 Barcelona
Atletico Madrid – Statistics & current form
From Barcelona's point of view, the strong Atletico comes to Camp Nou at the wrong time – because the colchoneros are in good shape just in time for the top game: Ten games are already unbeaten, the last four were all won by Atletico – with just one conceded goal
This goal was last scored in the 2-1 win over the weekend against Deportivo Alaves – with a penalty in added time. After the restart, Atletico remembers its virtues and strength, the defense, because after the restart, the team of coach Diego Simeone did not concede a goal in three of the five games.
Comfortable lead in fifth place
With this small series – and because the opponents for the Champions League are always failing – Atletico suddenly has a comfortable seven point lead over fifth. Atletico himself was sixth three weeks ago, two points behind the targeted fourth place.
"We are fully focused on our goal, so today's result was very important," said Simeone after beating Alaves, "to assert ourselves in this fight [for the Champions League]."
Despite being seven points ahead, Atletico will certainly not give in at Camp Nou, on the contrary. However, it should be noted: Especially at home, Atletico has rarely convinced this season, only five of his 16 guest appearances could win. Barcelona are the strongest home team in the league with 15 wins and a draw from 16 games.
Koke and Savic banned
"The next game will be really difficult, as it always is in Barcelona," Atletico coach Simeone knows about the strength of the Catalans with a view to the top game on Tuesday.
But two important regular players will not be able to help with the storm at Camp Nou: Captain Koke and Defense Chief Savic are both unavailable to Simeone due to a yellow card suspension.
Probable lineups of Atletico Madrid:
➤ Oblak – Trippier, Gimenez, Hermoso, Lodi – Partey, Llorente, Saul, Correa – Morata, Felix
Last games from Atletico Madrid:
LaLiga
⚽️ 06/27 2020 Atletico Madrid 2 – 1 Deportivo Alaves
⚽️ 06/23 2020 Levante 0 – 1 Atletico Madrid
⚽️ 06/20 2020 Atletico Madrid 1 – 0 Real Valladolid
⚽️ 06/17 2020 Osasuna Pamplona 0 – 5 Atletico Madrid
⚽️ 06/14 2020 Athletic Bilbao 1 – 1 Atletico Madrid
Barcelona vs Atletico Madrid Direct comparison
Barça against Atletico is a real La Liga classic: there were 165 duels in the Spanish elite class between the two teams, with FC Barcelona celebrating 75 wins and 50 for Atletico. 40 matches ended in a draw
Atleti has only won one of the last ten clashes – just the last duel in January in the Supercopa de España (3-2) when Barcelona were eliminated in the semi-finals. Otherwise, there were four draws and five losses during that period.
It is striking that the games were mostly low-goal. Three or more goals were scored only three times, with an average of 2.3 goals in the last ten duels – which is why a bet on Under 2.5 in the Barcelona vs Atletico Madrid game seems anything but wrong.
Barcelona vs Atletico Madrid Best odds – LaLiga
🔺 Betting Prediction: Barcelona
🔻 Betting Odds: 1.90
🔺 Betting Prediction: Draw
🔻 Betting Odds: 3.75
🔺 Betting Prediction: Atletico Madrid
🔻 Betting Odds: 4.50
Barcelona vs Atletico Madrid Betting Odds and Predictions
Barcelona against Atletico is a real top game where the pressure is entirely on Barça's side. Because Atletico has a comfortable lead on fifth place, so it is fully on target to reach the Champions League ranks.
Meanwhile, Barça is really under pressure in the championship fight and can no longer afford to slip if you want to keep the title hope alive. If Barça does not win the hit game, the house blessing of the Catalans is really wrong.
Key facts – Barcelona vs Atletico Madrid tips
🔺 Atletico has been unbeaten for ten games
🔺 Barcelona are still undefeated at home (15/1/0)
🔺 The Rojiblancos have won the last four games
Barcelona vs. Atletico Madrid has a lot of explosiveness to offer – this forecast can be dared. The home side may have been incited. They were already noticeable in the last games, when the draw in Celta Vigo the otherwise well-behaved Catalans saw four yellow cards.
Superstar Messi in particular has been over-motivated and sometimes annoyed in the past games, even if he always escaped a warning. Against Sevilla, he thrust defender Diego Carlos to the chest, against Athletic Bilbao he rose with his open sole Yeray Alvarez on the ankle – both times, Messi surprisingly did not even get a yellow card.
Betting Prediction: Lionel Messi receives yellow
Betting Odds: 5.5
LaLiga
⚽️ 06/30 2020 Mallorca – Celta Vigo
⚽️ 06/30 2020 Leganes – Sevilla
⚽️ 06/30 2020 Barcelona – Atletico Madrid
⚽️ 07/01 2020 Deportivo Alaves – Granada
⚽️ 07/01 2020 Valencia – Athletic Bilbao
⚽️ 07/01 2020 Real Betis – Villarreal FC
⚽️ 07/01 2020 Real Valladolid – Levante
⚽️ 07/02 2020 Eibar – Osasuna Pamplona
⚽️ 07/02 2020 San Sebastian – Espanyol
⚽️ 07/02 2020 Real Madrid – Getafe